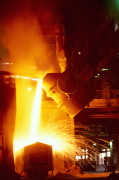 "VARIOLINE ISTANBUL", an international engineering and trade company founded in 1985 by a former distinguished German trade company, serves the needs of industrial plants.For long time, the core business has been exporting casting products to mainly Germany, Austria and Belgium.

Varioline has built strong and long-term relationships with more than 15 foundries in Turkey, which differ in capacity, casting methods and materials, enabling Varioline to meet all custom demands. The diverse portfolio of foundries gives Varioline a great advantage in supplying a wide range of casting products and consolidating them into a whole package.

Varioline can supply hand-moulded or machine-moulded casting products varying from 0.5 kg to 30,000 kg in small or large sizes. Raw casting products, as well as pre-machined and complicated machined parts are produced,controlled by own quality management and supplied, facilitating Varioline with the opportunity to cover all casting product inquiries.

For over 20 years, the customers have appreciated the savings in time and money they have received from all the services offered. Varioline believes that it has earned its customer loyalty by providing the highest level of satisfaction in every service. Varioline has a long-term commitment to quality, backed up by the guarantee of proper fit, performance and customer satisfaction.

Varioline is the one stop source for all casting needs at most reasonable prices in Europe along with superior quality and service. Please contact us to cooperate with Varioline's enthusiastic and professional staff for all your diverse needs.